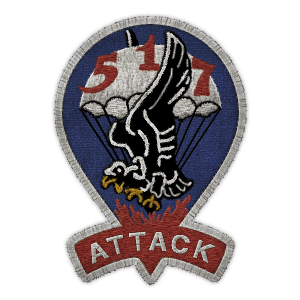 Regiment ( Forgotten Hope 2 - Overlord / 82nd Airborne Division )
Since

Regiment Leader

caeno
If you want to join this regiment, you need to click on the green

"

Join Regiment

"

button in the top right of the regiment-header.

Useful information




Trainings:

Thursdays at 18hUTC until 23hUTC
Battles: Fridays at 18hUTC until 23hUTC
Prefix in FH2: 

517|82


Tags in TS: 

517[82]Rank|nickname


Teamspeak: ts.cmp-gaming.com
 

Regiment History:


The 517th Parachute Regimental Combat Team (517th PRCT) was an airborne, specifically a parachute infantry, regiment of the United States Army that was formed in March 1943 during World War II, training at Camp Toccoa in the mountains of Northeast Georgia.

Although it began as the 517th Parachute Infantry Regiment (517th PIR), an element of the 17th Airborne Division, the 517th PRCT was formed when the 517th Parachute Infantry Regiment was combined with the 460th Parachute Field Artillery Battalion (460th PFAB) and the 596th Parachute Combat Engineer Company. The 517th saw most of its combat (in Italy, Southern France, and the Battle of the Bulge) as an independent unit. At the end of the war, the unit was eventually incorporated into the 13th Airborne Division.
Activity Feed
There are no results to show in this activity stream yet
---